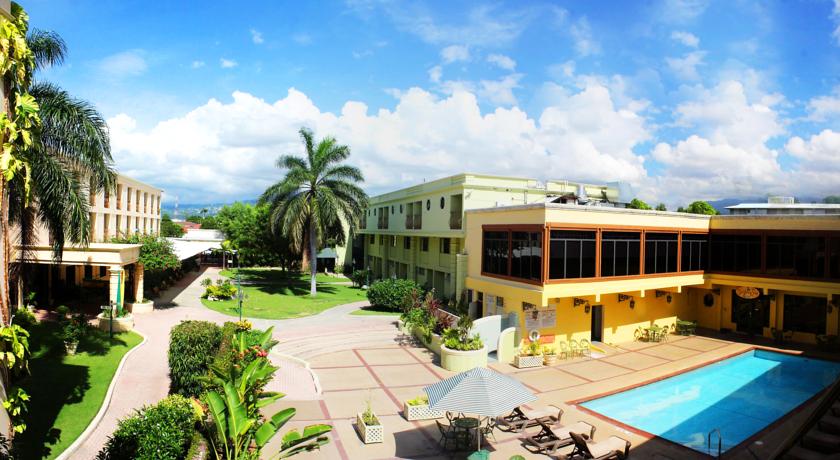 The Knutsford Court Hotel, formerly Sutton Place Hotel is a hotel located in Kingston, Jamaica.
History
In 2002 The Sutton Place Hotel was acquired from Renmote Mews Limited by Kevin Hendrickson, who had previously acquired The Courtleigh Hotel & Suites. Hendrickson then embarked on a venture to transform the property into a new hotel and was able to accomplish this in just over 11 months.
Location
The Knutsford Court Hotel is located within close proximity to the financial and commercial area in New Kingston and approximately 15 miles from the Norman Manley International Airport. This location is in close proximity to the Bob Marley Museum (1.9 miles), Devon House Great House (1.2 miles), Emancipation Park, Hope Botanical Gardens, Centre Stage Theatre and Mandela Park (1 mile).
Hotel Features
The Knutsford Court features 143 rooms and suites featuring Standard rooms, Superior rooms, Junior suites, One-bedroom suites and Two-bedroom townhouses. The hotel consists of a restaurant, an outdoor pool, a pool bar, private gym, games room, private garden court, a 24 hour business centre, and a 24-hour fitness centre. There are 7 meeting rooms onsite with the largest accommodating up to 300 persons.
Amenities
All 143 rooms offer free WiFi and free wired Internet, direct-dial telephones with voice mail, electronic key-access, view ports, work desk, hairdryer, refrigerator, cable television and in-room safe. All rooms are air-conditioned. The hotel offers free buffet breakfast, free WiFI in public areas, free self parking and designated areas for smoking.
Dining
**The Melting Pot Restaurant & Lounge **: Serves breakfast (breakfast buffet included in hotel rate), lunch and dinner.
**Lobby Cafe **: Located just off the Front Desk.
Hotel Amenities
Free breakfast
Free self parking
Free WiFi
Free wired high-speed Internet
Garden
Gift shops or newsstand
Laundry facilities
Meeting rooms
Multilingual staff
Outdoor pool
Poolside bar
Porter/bellhop
Restaurant
Safe-deposit box at front desk
Tours/ticket assistance
Free use of nearby fitness centre
Wedding services
Meeting Facility
The Knutsford Court offers just over 10,000 sq. feet of meeting and banquet space.
Blue Mountain Suite
Banquet style- 280 persons
Classroom- 170 persons
Theatre- 400 persons
U- Shape- 55 persons
Grand Caribbean Suite
Banquet style- 200 persons
Classroom- 70 persons
Theatre- 240 persons
U- Shape- 50 persons
Windward Suite
Banquet style- 50 persons
Classroom- 30 persons
Theatre- 60 persons
U- Shape- 25 persons
Leeward Suite
Banquet style- 50 persons
Classroom- 30 persons
Theatre- 60 persons
U- Shape- 25 persons
Boardroom A
Banquet style – 20 persons
Boardroom – 24 persons
Executive Boardroom
Boardroom style- 12 persons
Lobby Boardroom
Boardroom style- 12 persons
Hotel Policies
Check-in time starts at 3 PM. Minimum check-in age is 18
Check-out time is noon
Only registered guests are allowed in the guestrooms.
Miscellaneous
Total number of rooms - 143
Number of buildings/towers - 3
Number of floors - 3
Number of meeting rooms - 8