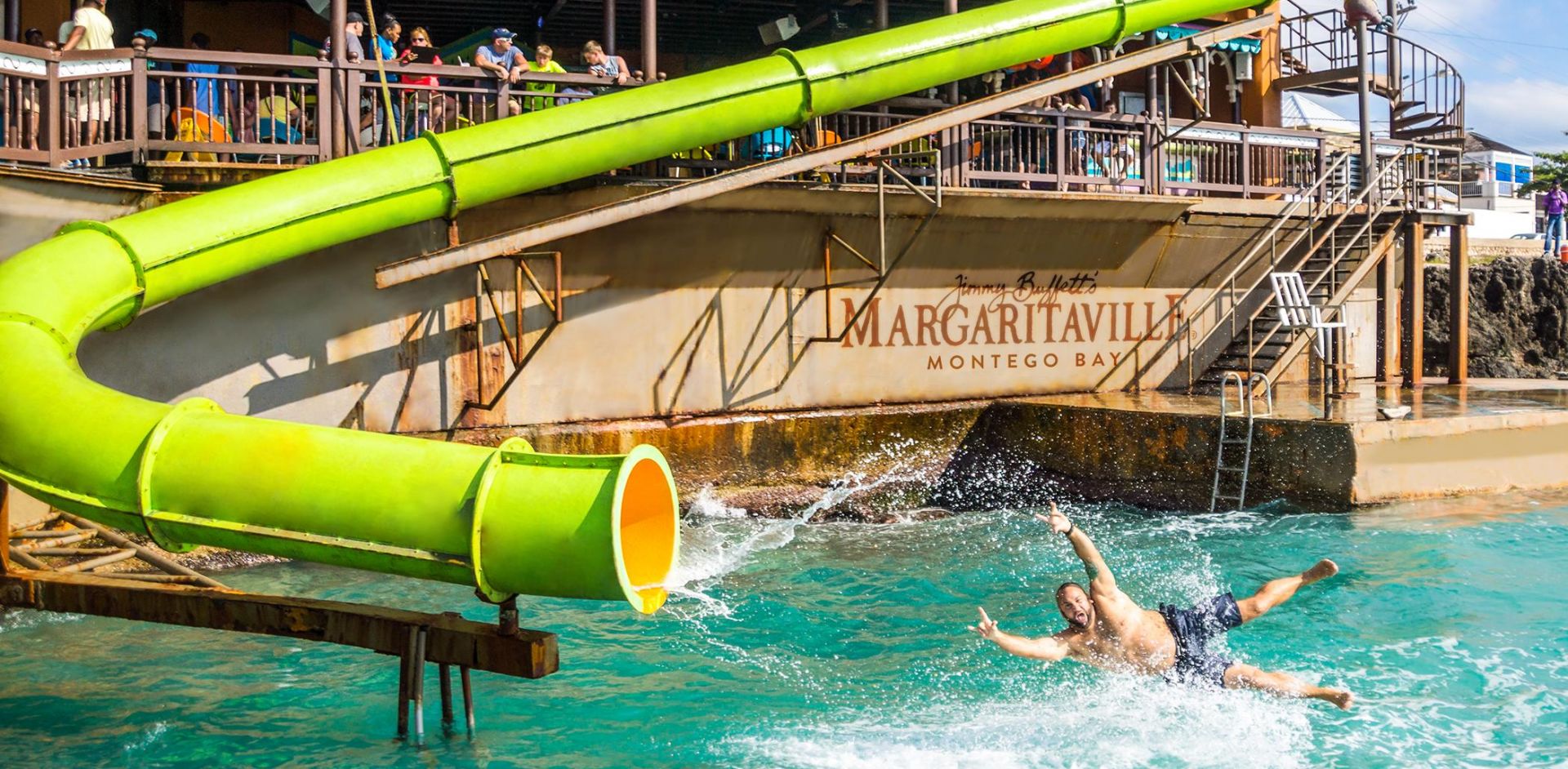 Features
Full-serve Restaurant and Bar, Water Park, 120-foot Signature Water Slide, Caribbean Sea Access, Live Entertainment, Famous Sunset Patio, Outdoor Showers, Lockers, Nightclub, Retail Store
Turquoise waters summon you to the shores of Jamaica's second largest city and first choice for fun, Montego Bay. From your resort or cruise ship, journey to the heart of MoBay's Hip Strip by bus, taxi, catamaran—even foot—for an exhilarating daylong retreat the whole family will enjoy.
Classic Americana and authentic jerk dishes served with a side of Island time. Ice-cold drinks paired with red-hot fun, and panoramic views of the Caribbean that offer unlimited opportunities for heart-pumping water sports from our aqua park.
Hear the call of the ocean from our 120-foot waterslide. Jump for joy on our water trampoline. Grab the day by the margarita mug and let loose. From island-inspired bites on our famed sunset patio to dancehall and reggae beats under the moonlight at our seaside nightclub**,** you won't want to let another day waste away without visiting Margaritaville Montego Bay.
Anchored by Jimmy Buffett's Margaritaville brand of themed restaurants, Margaritaville Caribbean Group offers an array of options from casual to fine dining, and an eclectic mix of signature entertainment experiences at its restaurant and night club venues. Margaritaville Caribbean Group has established a strong reputation as a company that owns and operates some of the most attractive brands in the Caribbean.
Free daytime transport from most major Montego Bay resorts for groups of 4 or more.
Call 876.952.4777 or email info@margaritavillecaribbean.
Free Shuttle Service
Pick up Schedule
Decameron - 10:25pm | 11:45pm
Hilton - 10:00pm | 11:45pm
Holiday Inn - 9:30pm | 10:20pm | 11:05pm
Hyatt - 10:10pm | 10:50pm
Iberostar - 9:30pm | 11:15pm
Sandals Montego Bay - 9:30pm | 11:20pm | 11:15pm
Sandals Royal - 9:45pm | 11:20pm
Secrets - 9:30pm | 10:40pm |11:25pm
Sunset Beach - 9:45pm | 11:30pm | 11:15pm
Return Schedule
Sunday - Wednesdays & Fridays - 1:00am | 2:00am
Thursdays & Saturdays - 1:00am | 2:00am | 3:00am