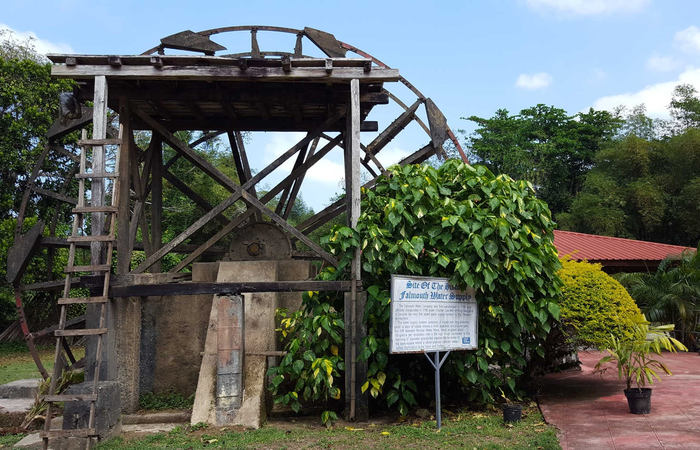 The Waterwheel is a Falmouth attraction located in Martha Brae, approximately 2 miles from the Falmouth port.
History
It is aimed at preserving the history of the historic "Persian" water wheel. This water wheel made the relatively small town of Falmouth the first town in the western hemisphere to have running water. You can see how the water was taken from the Martha Brae and pumped into Falmouth town.
Because of this system, residents of Falmouth proudly boast that their town had piped water before New York City.
Nature
Nestled on the left bank of the Martha Brae, the location is quiet, green and peaceful. It is the perfect spot for nature lovers. As the Martha Brae flows past, water has been channeled into a natural river-fed pool. Our visitors are free to enjoy our natural pool.
Facilities
The premise consist of Bar Area, Kitchen (including drums for jerking), Bathroom Facilities, 40 ft by 40 ft covered area for seating, 30 ft by 30 ft dance area, uncovered and extensive lawn area.
20 ft by 20 ft Tent, 10 ft by 20 ft tent ,chairs and tables for additional rental.
Functions/Events
The Martha Brae natural attraction can accommodate groups of almost any size. We have both indoor and outdoor accommodations. Our indoor facility can hold approximately 120 persons, with additional spaces for tents to be erected to hold more than that number.
The location is perfect for all types of events including:
Weddings
Concerts
Fun days
Parties
Dances,
Business meetings
Pool parties
Funeral repasts
Relaxation
Socialising
Fun Day Activities include (but not limited to):
Domino
Ludo
Fishing
Football (scrimmage)
Volleyball
Location
The Waterwheel Falmouth attraction is located on what locals call "River Road." It is close to the bridge that overlooks the terminus of the Martha Brae River Rafting attraction.
Catering
For all types of functions, the Waterwheel caters upon request.